Get 25% OFF your first appointment
Book your first appointment at The DRIPBaR Richmond, VA and get 25% OFF your first drip!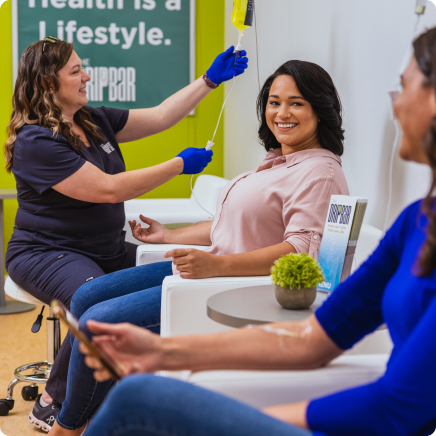 Our Services at The DRIPBaR in 
Richmond, VA
IV Lifestyle Drips
Ranging from $74.25 to $149.25
Learn more
Designed to address a wide range of lifestyle concerns, from anti-aging to workout support. Popular for newcomers to IV therapy.
Restoration Drip for rehydration and recovery
Shield Drip for immune system protection
Powerpack Drip for energy boosting health support
Allstar Drip for athletic performance enhancement*
Soother Drip to relax your muscles and your mind
Time Machine Drip for anti-aging support
Preop Drip to prepare for surgery*
Postop Drip to recover from surgery*
Jetsetter Drip for pre-flight support
Flu Fighter Drip to relieve early symptoms of illness
Firm Drip for skin beautification and maintenance
The Debut Drip to support general well-being
Allergy Drip to reduce allergy related inflammation
Glutathione Drip for detoxification and anti-inflammation
100% Hydration to replenish fluids and electrolytes
Post Viral Drip to heal, mend, and repair
Vitality for Sexual Health & Increased Libido
Load more drips
IV Health Support Drips
Ranging from $111.75 – $246.75
Learn more
Your body is programmed to heal itself. The health support infusions have been engineered to aid your body in that process. These powerful, yet gentle natural substances can give you the advantage needed to overcome the consequences of modern toxic exposures.
High C Drip for chemotherapy and cancer relief
Alpha Lipoic Acid (ALA) Drip for cellular detoxification
NAD+ Drip for the ultimate anti-aging support
Heavy Metal Detox
IM Quickshots
Starting at $50
Don't have time for a full IV vitamin infusion but looking for the benefit? Give your body a boost in just five minutes!
IM Super Charged: mega energy + weight loss + brain reboot
IM Detoxed: combat free radicals + detox
IM Glowing: collagen support + neutralize free radicals
IM Strong: athletic support + weightlifting + endurance
IM Lean: fat reduction + weight loss
IM Vitalized
What to expect at The DRIPBaR in 
Richmond, VA
The DRIPBaR proudly offers IV infusions in Richmond, VA! We're a health and wellness business helping people feel great through IV therapies and IM Quick Shots.
Our IV therapies can help you feel better quicker than the nutritional supplements you eat and drink because we bypass digestion entirely – giving you a quick and effective boost!
When you visit our IV spa in Richmond, you'll experience health benefits like:
Stronger immune systems
Headache relief
Anxiety relief
Weight loss
More energy
And much more!
What to expect during your visit
Visit The DRIPBaR for health and wellness services in Richmond, VA
Hours
Monday: 10am – 6pm
Tuesday: 10am – 6pm
Wednesday: 10am – 6pm
Thursday: 10am – 6pm
Friday: 10am – 6pm
Saturday: 9am – 4pm
Sunday: 9am – 4pm
Holiday Hours
Sunday May 28 – CLOSED
Monday May 29 – CLOSED
Book Appointment
Welcome back! Book your appointment through our booking system or give us a call:
How pricing works
Prices per drip and/or service may vary and are subject to change at any time.
The ranges shown are with the discount offer applied to valid drips only.
The discount offered on this page is valid only for new customers when booking their first appointment for eligible services.
Book an appointment or call to speak with a DRIPBaR concierge about pricing.